Antlia H-beta and OIII (UHC) Filter for the visual and photography
incl. 27% VAT
Including 27% VAT:
149.00 €
(58 110 HUF)
Net price (for non-EU customers):
117.32 €
(45 756 HUF)
Add to basket
Stock avalability
Delivery:
Available for delivery
Budapest shop:
Limited stock (1 piece). Please contact our colleagues before ordering: +36-1-202-5651
Delivery:
Available for delivery
Product code: AntO3-vis-1z
Antlia H-beta and OIII (UHC) Filter for visual observation and photography
Antlia HB-OIII filter is engineered specifically for night visual nebulae observation at a high contrast and Deep-sky astrophotography. Its transmission is 90% or greater at critical wavelengths (OIII 500.7nm, OIII 495.9nm, and H-Beta 486.1nm). You'll notice much higher contrast boost to observe Planetary Nebula, Supernova Remnant, Emission Nebula, Diffuse Nebula, and extremely faint nebulae by Antlia HB-OIII filter.
When it is used for Astro Deep-sky imaging, it enhances the details of the OIII and H-Beta emission lines with astronomical cameras and DSLRs.
Main Application and Performance:
Antlia HB-OIII filter was coated with almost total suppression of optical density (OD)4 on unwanted wavelength and the filter cut-off wavelength is 300-1000nm, which meets the spectral requirements of photographic cameras and further enhances the suppression of the IR region, compared with the visual filters with a cut-off depth of OD3@350-750nm, it performs better to darken the sky background and make deep-sky observation and photography of nebulae, star clusters, and galaxies more easily.
The HB-OIII filter helps faint objects become much more visible against the blackened background and produces near-photographic views of the Veil, Dumbbell, and Orion nebula, among many other objects under both light-polluted and dark skies.
Since human eyes are less sensitive at night, large aperture telescopes are recommended to gather light and funnel it into the observer's eyes.
Technical Specifications:


Oxygen III
Oxygen III
H-Beta
CWL (Central Wavelength)
500.7nm
495.9nm
486.1nm
Peak Transmission
>90%
>90%
>90%
Blocking
OD4@ 300-1000nm
Filter Thickness
2mm+/-0.05mm
Basic Substrate
Optical, Single, Non-glued substrate
Surface Quality
S/D (scratch/dig)= 60/40 (Refer to MIL-O-13830)
Transmitted Wavefront
Lambda/4 or better
Parallelism
less than 30 arcsec
Filter Ring:
1.25''(M28.5*0.6)

Ultra-thin filter cell to minimize vignetting,

Black anodized finish,

Laser engraving

No fading
Spectrum Curve: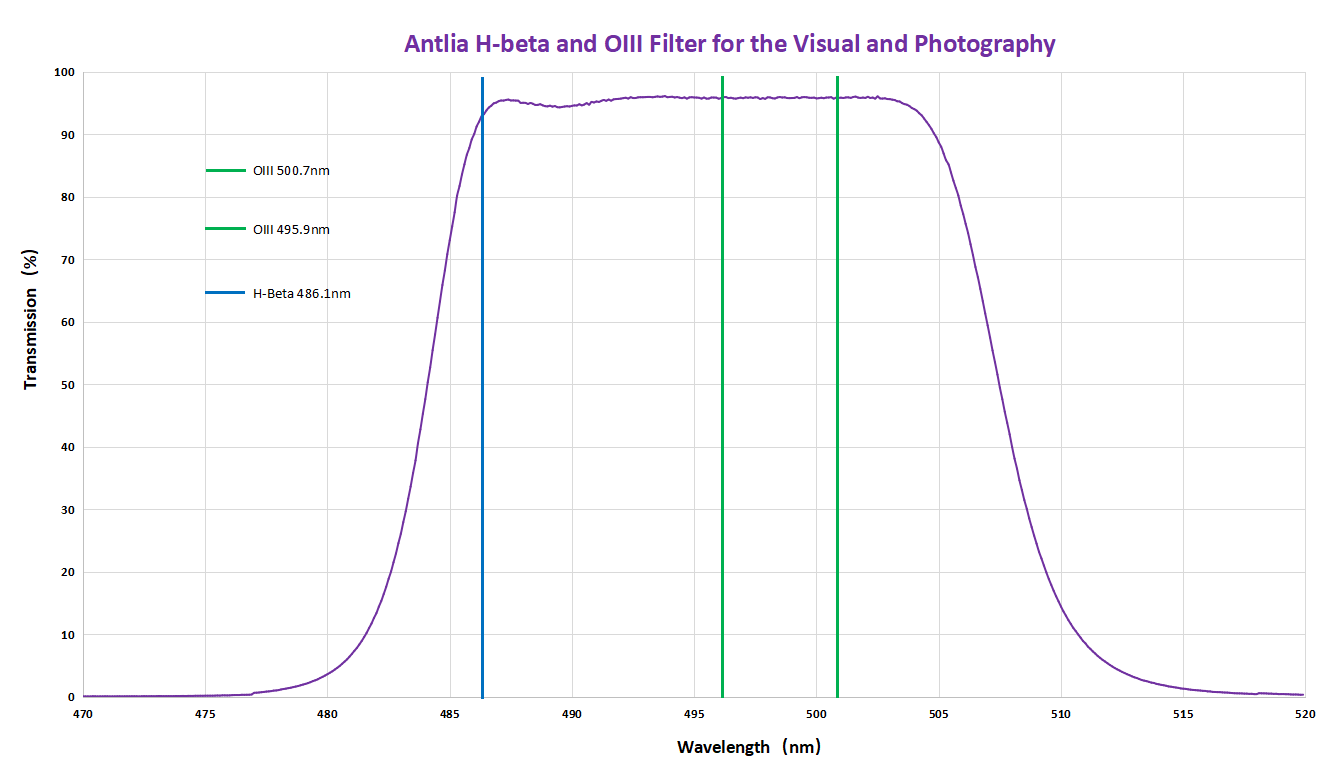 More about the product
These filters transmit light only around the O-III wavelength. Recommended for supernova remnants and planetary nebulae but perform well on emission nebulae as well. In contrary to UHC filters these are not general-purpose deepsky filters. Perform well both visually and photographically.
The image below shows the transmission of different models. The best filter is the one where the transmission band is the narrowest, as this provest the highest contrast.
Please log in in order to be ablo to provide feedback!
Our Latest News on Facebookon